Page 461 - Verbraucherkatalog 2021 Behr Angelsport GmbH
P. 461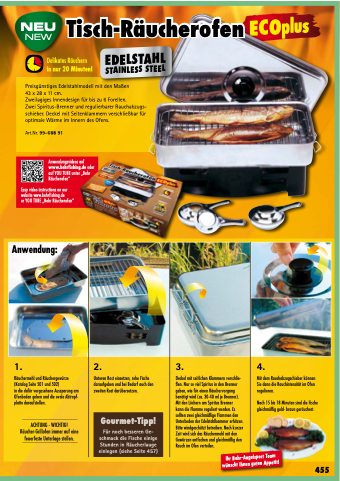 MAGIC FEEDER®
 MAGIC FEEDER® ist ein komplett neues und sehr erfolgreiches Feedersystem. Es kom- biniert 8 unterschiedliche Funktionen in einem Produkt. Eine klasse Idee. Der MAGIC FEEDER® kann als geschlossener oder als offener Futterkorb verwendet werden. Die Gewichte können beliebig ausgetauscht werden (10, 20, 30 und 40 Gramm). Das MAGIC FEEDER® Set besteht aus einem Futterkorb mit Wirbel, einem abnehmbaren Verschlussdeckel und 4 unterschiedlichen Wechsel-Gewichten.
MAGIC FEEDER® is completely new and unique product on the market. It is designed to combine eight functions in just one product. You can use it as a closed feeder or an open feeder. The bottom weight you can remove and replace them with a heavier or lighter weight if necessary. The MAGIC FEEDER® Set consists of a feeder with swivel, a removable closure-cap and 4 different changeable weights (10, 20, 30 and 40 Gramm).
MAGIC FEEDER® SET
Art. Nr. 93 658 90
"Magic Feeder, das neue Futterkorb-System ist ein "Muss" für jeden Grund/Friedfischangler. Je nach Bedarf kann das Futterkorbgewicht während des Angelns verändert werden. Eine tolle Idee."
"The more I fish my Magic feeder, the more
I appreciate the thinking that went into this design. A fantastic idea."
Klaus Görig, Vize-Weltmeister und mehrfacher WM-Teilnehmer im Friedfischangeln.
        einfach Gewicht wechseln
Futterkorb offen:
Z. B. mit Grundfutter
Futterkorb geschlossen: Z. B. mit Maden
     441
  MAGIC FEEDER® FUTTERKÖRBE einzeln
Endkappe kann abgenommen werden und
somit als "Open-End Feeder" verwendet werden.
Remove closure-cap and use it as an "Open-End Feeder"
   Art. Nr.
93 - 663 30 93 - 664 00 93 - 665 70 93 - 666 40
Modell closed closed closed closed
Gewicht 10 g 20 g 30 g 40 g
Endkappe kann abgenommen werden
   LONG TUBE METHOD FEEDER Lieferbar in 20, 30, 40, 50 Gramm.
Available in 20,30,40,50 Gramm.
 Art. Nr.
93-823 20 93-823 30 93-823 40 93-823 50
Gewicht 20 g 30 g 40 g 50 g
  ELASTIC METHOD
FEEDER
mit eingebautem Shock Absorber. Lieferbar in 20, 30, 40, 50 Gramm.
ELASTIC METHOD FEEDER with inside shock absorber. Available in 20,30,40,50 Gramm.
 Art. Nr.
93-821 20 93-821 30 93-821 40 93-821 50
Gewicht 20 g 30 g 40 g 50 g
Innenlauf- Elastikband
  NEU
NEW
 Mit abgerundetem Endrohr, schont die Angelschnur.